Cheltenham 2023 Extra Places & Each Way Betting
When it comes to betting on horse racing, extra places is a concept in which punters must be aware of. Extra places is a promotion delivered by an increasing number of online bookmakers, with such sites paying out on runners and riders finishing in the top five or six places, rather than those finishing in positions 1-4 as normal
Bettors are therefore in a position to make a profit where they would usually miss out, however it is important that the different terms and conditions surrounding extra place offers are understood beforehand. This page will take a detailed look at this form of promotion, including which bookies are paying 5 places and the best each way bets for Cheltenham this year. Let's get things underway by looking at how extra places and each way betting works in full.
In order to fully understand how extra places promotions work, it is important that the ins and outs of each way betting is also discussed.
What Is Each Way Betting?
An each way bet is effectively split into two individual wagers, with the first being on a particular horse to win an upcoming race, while the second is the same runner finishing in 1st, 2nd, 3rd or 4th position, with this differing from bookie to bookie and meeting to meeting. As a result, when placing an each way bet, punters must cover the cost of both bets, with money being made when the bookmaker is paying out more than the exchange market. For example, Paddy Power extra places promotion may mean that they are paying out up to 5 places, while Ladbrokes extra places is only up to 4.
Each Way Bets & Cheltenham Festival
So, whether you are looking for Cheltenham extra place offers or other ante post promotions in this area, it is important to consider each bookmaker individually, including the conditions surrounding them. Some will not offer extra place winnings on ante post bets, while some betting sites will pay out up to 5 places, compared to a lower position elsewhere. Ultimately, extra places promotions can ensure that you are left with some earnings, even if your pick does not run out the winner of a horse race.
Ladbrokes Extra Places Offer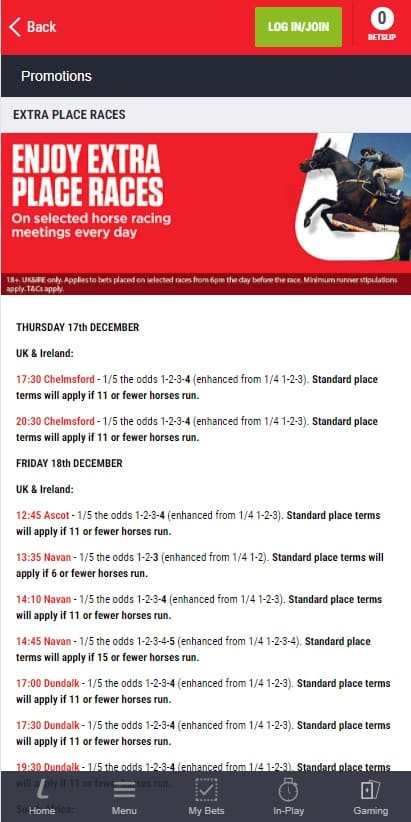 Are Ladbrokes paying 5 places? Ladbrokes are in fact one of the few bookmakers who often pay out on the first 6 places when it comes to horse racing, however it remains to be seen as to whether this will be the case for the 2023 Cheltenham Festival.
The bookie pays out at odds of 1/5, with Ladbrokes paying 4 places on selected races with more than 11 runners, 5 places for selected races with more than 17 runners and 6 places if there are more than 22 runners in the field.
Paddy Power Extra Places Offer
Paddy Power offer daily extra place promotions surrounding horse races, with the bookmaker likely to be one of the best options for punters ahead of the Cheltenham Festival this year.
Paddy Power pay out on bets up to 4 places when there are less than 16 starters, while if there are less than 8 starters, they will pay out on extra places for the top three finishers.
However, Paddy Power could well introduce specific offers surrounding races from the 2020 Cheltenham Festival, so be sure to keep an eye out.
Meanwhile, it is likely that punters will see their winnings paid out odds of around 1/5.
Betfred Extra Places Offer
Are Betfred paying 5 places at the upcoming Cheltenham Festival? The Betfred extra places offer is available on selected races, applying to all winner and each way bets.
The promotion does not cover ante-post bets
The bookmaker paying out 3 places in races featuring fewer than 6 runners and riders, compared to 4 places for races featuring 12 or less.
Meanwhile, their standard rules state that Betfred will offer 5 places on races featuring 16 runners, along with 6 places on meetings with 24 runners or less, both at odds of 1/5. It remains to be seen as to whether Betfred will make any changes for the Cheltenham Festival.
William Hill Extra Places Offer
William Hill also provide their customers with a better chance of coming out on top at Cheltenham this year thanks to the William Hill extra places offer, with the bookmaker even doubling the number of places on offer sometimes.
Minimum runner conditions are likely to apply during the Festival in March, with enhances each way terms of 1/5 odds having been set, unless stated otherwise. William Hill were one of the most popular bookies during the 2019 Cheltenham Festival, however many are already wondering does William Hill pay 5th place finishers? The information about 2020 Festival extra places offering from William Hill will be revealed soon.
Bet365 Extra Places Offer
The Bet365 each way extra feature allows punters to choose their place terms for each way horse racing bets on selected meetings, including both increasing and decreasing the number of places. Access the "Each Way Extra" tab found in the racecard in order to see the terms on offer, with the number of places being available to change directly from the bet slip.
However, it is important to understand that this feature cannot be used in conjunction with the Bet365 price promise. Bet365 are often one of the most generous promotions when it comes to the Cheltenham Festival, paying out up to 5 places in the process.
Which Bookies are Paying 5 Places?
The full conditions surrounding extra places promotions at the 2022 Cheltenham Festival are yet to be released, however it is understood that a number of bookmakers will be paying out up to 5 places, providing punters with something of a safety net for what is set to be one of the most competitive meetings in recent history. Are Ladbrokes paying 5 places? Are Betfred paying 5 places? Does William Hill pay for 5th place? Answers will be revealed soon.
Before looking to take advantage of extra places offers, check out some of the most important terms and conditions surrounding such promotions:
Qualifying odds – Minimum odds are likely to be required in order to qualify for the extra places offered by bookmakers this year, meaning that those looking to bet on the overwhelming favourites may struggle to do so.
Time – Many bookmakers do not allow ante-post bets to be included in extra places promotions, meaning that customers must place bets just ahead of the Cheltenham Festival getting underway, or on race day itself.
Number of starters – The number of extra places offered is likely to depend on the total number of runners featuring in the race, as we have eluded to earlier on. The more runners, the greater the number of additional places is likely to be.
When the bet was placed – Meanwhile, some betting sites will only accept bets that have been placed either before or after final race declarations have been made.
Other restrictions – It is also likely that those looking to utilise extra places offers will not be able to take advantage of other horse racing promotions in which your bookmaker is providing, whether it be best odds guaranteed, non runner no bet or faller insurance.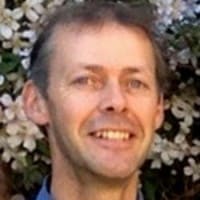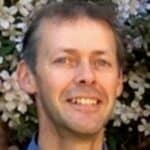 Harvey Mayson has worked as a horseracing writer, blogger and tipster for several of the UK's leading bookmakers and numerous other specialist racing sites. Harvey has great knowledge of horse racing history and was the author of the Paddy Power Cheltenham Festival and Aintree Grand National blog for three years. Harvey's blog at the Cheltenham Festival in 2014 included a 100,000-1 ante-post four-timer while he correctly forecast the first four winners on Grand National day in 2015. He also tipped three Grand National winners in a row and eleven consecutive winning nap selections.